How We Do It—Personalized Wallcoverings
We're incredibly excited about Street Level Studio's newest design offering—Beyond the Surface™ personalized wallcoverings. But people have been asking us how it's possible to make one-off, bespoke wallpaper that's accessible to anyone.
It's a fair question, with a simple and straightforward answer: Easy access to our talented design team plus state-of-the-art, large-format digital printing. That and a process that is also simple and straightforward.
Collaborate and Create
Clients meet personally with our top-notch surface designers to get exactly the look they want, whatever their inspiration—unconventional patterns, treasured photos, heirloom recipes, baby footprints, handwritten love letters, original artwork, branding, and on and on. With digital printing, it isn't necessary anymore to repeat patterns at precise intervals, so large-scale designs and high-resolution photos are no longer issues. Once the design is approved, we build the digital files and pass them on to our local resource, RPM Digital Imaging.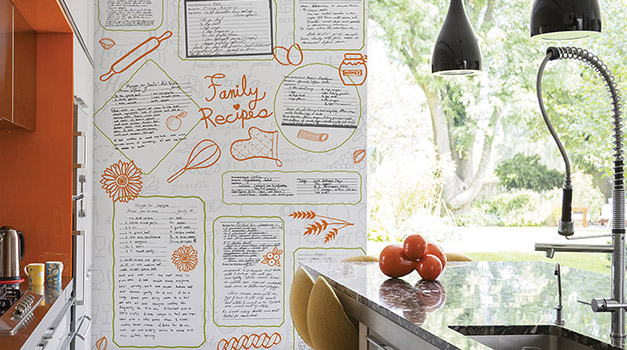 Print and Install
RPM uses one of the most advanced large-format machines in the industry to print each unique on-demand wallcovering. The Canon Colorado 1650 large format printer can produce either a matte or gloss finish, mimicking the expensive look, feel, quality, and consistency of traditional wallpapers at a fraction of the cost. Beyond being beautiful, these wallcoverings are extremely durable (you can scrub them with cleaning solvents!) and GREENGUARD Gold certified, one of the most stringent product emissions standards in the world. The printed wallcoverings are delivered directly to the client for installation or installation is arranged with RPM.
That's it. Creating a one-of-a-kind space with custom wallcoverings doesn't have to be a complicated or drawn-out process. Not anymore. Street Level Studio has it figured out. For a firsthand look at some inspired personalized wallcovering ideas, stop by to see our storefront window displays.