What's Behind the Design?
In a previous post, we introduced the new light pole banners Street Level Studio created for the City of Highwood. The project recently won Gold in the 2019 MarCom Awards, one of the world's oldest, largest, and most prestigious international creative competitions.
You definitely saw the award-winning banners if you drove through town this summer, dined at one of Highwood's popular restaurants, or had fun at some of its legendary festivals. What you didn't see also deserves attention. Because what goes on behind the design of an out-of-home media project of this scope is equally crucial to its success.
We knew that to realize our vision—streets lined with a variety of engaging themed banners paired with evocative black-and-white photography—we'd have to manage some rather complicated logistics.
Our "clients" (the Highwood Chamber of Commerce and Highwood City Council) loved that our design included images and not just text, but this refinement added an extra layer of complexity. So, we researched and reached out to community groups to find historical and contemporary photography that captured the essence of Highwood and our ten "Experience" categories:
With photos in hand, we put all the pieces of the puzzle together, creating a detailed, color-coded mapping system showing which themed banners went where, which banners were paired with which photos, and matching each set of banners with the appropriate sponsor valences. We also considered context, whenever possible placing particular banners in front of buildings and businesses where people would find those distinct Highwood experiences.
The finished map—which to some of us looked more like an Edward Tufte diagram of a famous military campaign than a street pole schematic for downtown Highwood—was a work of art in its own right.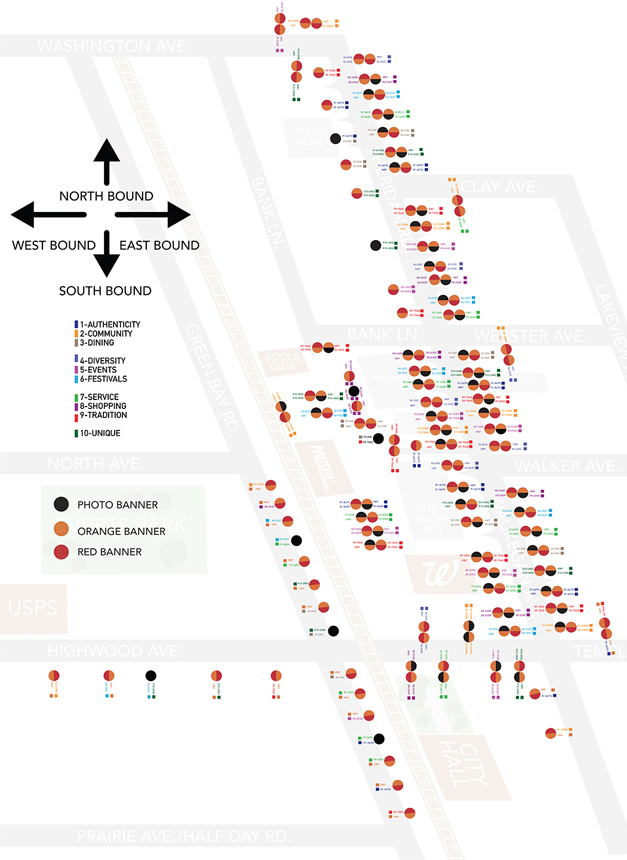 While this meticulous attention to detail may seem a bit obsessive, it was critical for what came next—production and installation. We provided the printer with precise design files and instructions down to the last grommet. Our specs also included the exact sequence for boxing up the printed banners in the order they would be installed. When installation day rolled around, all the city work crew needed to do was grab the next box in the stack and install the banners in sequence along each block, completing all 171 light poles in record time!
Want a closer look at what was behind the design of these dynamic banners? Here it is!