DISCOVER
STREET-SMART STORYTELLING
As an award-winning marketing agency, we will help you inspire, connect, and build relationships that create memorable experiences.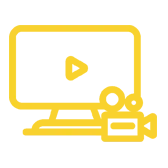 The #1 Engagement Strategy to Watch
Since the launch of popular video-sharing websites such as YouTube, video has exploded into a universally effective—and expected—means of spreading content. Beyond the sharing of cute dogs getting into trouble, video is an immersive way to connect with your audience and leave a lasting impression.
Street Level Studio's talented video pros know exactly how to conceive, craft, and produce a well-designed visual message that will hold your audiences' attention longer, improve your SEO, generate a higher social sharing profile, increase your online visibility, and improve conversion rates.
View Client Projects ›
CREATE EXPERIENCES, NOT CONTENT.
Benefits of Authentic Video Storytelling
At its core, video marketing is about telling stories, and every company has one.
Your company's story has the power to draw audiences into your world, opening opportunities to build relationships with new customers.
Video extends your reach
Now that 75% of all internet traffic is streaming video, it's critical for businesses to figure out how best to leverage this powerful content across departments, on multiple channels, and throughout the buyer's journey. The average business publishes 18 videos each month; that may sound like a lot, but audiences eagerly consume this content—in 2018, 87% of people said they'd like to see more video content from brands in the next year. (HubSpot)
49% faster
Revenue growth seen by marketers who use video when compared to non-video users (WordStream)
157% increase
In organic traffic from search engine result pages is thanks to video (WordStream)
64%
Consumers make a purchase after viewing branded social videos (Tubluar Insights)
We Are Street Level Studio
Unique. Powerful. Creative.
OUR AWARD-WINNING WORK
Why Street Level Studio?
Street Level Studio's talented video pros know exactly how to conceive, craft, and produce a well-designed story that will hold your audience's attention, improve your SEO, generate a higher social sharing profile, and increase your online visibility.
Get Started ›


The Viddy Awards, one of the oldest and most respected awards programs in the industry, recognizes outstanding video production across all media.

Beko Turkish Coffee Maker
Winner: Videographer Excellence Award, Product Marketing
Home appliance brand Beko wanted to drive awareness and showcase the key features of their new, unique Turkish Coffee Maker. Our product marketing video uses Turkish-inspired footage and music to evoke the authentic taste and consistency of Turkish coffee customers can experience with Beko's product.
Welcome to Street Level Studio
Winner: Videographer Excellence Award, Motion Graphics
To introduce people to our brand, we created an explainer video that captures the inspiration, passion, and talent of Street Level Studio. Here, a combination of attractive motion graphics and exciting copy grab the viewer's attention, enticing them to learn more.
Canon Solutions America: Book Smart Suite
Winner: Videographer Distinction Award, Product Marketing
Canon Solutions America Production Print Solutions released an exciting, new end-to-end digital book production suite and turned to Street Level Studio for help promoting it. To share how book publishers could benefit from this new solution, we used a professional voice-over artist and well-known storytelling techniques to show just how this technology makes a difference for the industry.
Beko Power Blender
Winner: Videographer Distinction Award, Product Marketing
When customers consider a purchase, they often think of how they will use the product in their own home. It only makes sense, then, to show viewers how the Beko Power Blender easily fits into their lifestyle by showcasing its powerful features in a kitchen environment. This video shows just how elegantly the appliance blends into any kitchen and how easy it is to use.
WE'RE HERE TO MAKE IT EASY
Take the next step in inspiring your customers!
Our design professionals are ready to help you take your story to a new level through promotional video.
Start New Projects ›