5 Tradeshow Tips and Surprising Statistics
For years, Street Level Studio has worked with Canon Solutions America to create impressive tradeshow booths that showcase its industry-leading digital printing solutions. We've designed and produced an amazing array of graphic elements, signage, giveaways, posters, environments, and more. And along the way, we've learned a thing or two about how to make the most out of exhibiting successfully. Here are some tips and tidbits we'd like to share.
Tip 1 – Be proactive
Don't wait until you get to the show to reach out and engage with attendees. Well in advance, check the attendee list and start setting up meetings with prospects, potential connections, and existing clients.
did you know?
About 70% of attendees plan a list of brands/booths to visit before arriving at the show. Make sure you're one of them! (Source: Exhibit Systems)
Tip 2 – Prime the pump
Spread the word about your booth to your existing and potential clients with engaging marketing materials such as mailers or emails. Be sure to include your booth number and an incentive to stop by. Social media is another great tool for creating hype ahead of time and connecting with the tradeshow community. Don't forget to use the event hashtag!
did you know?
Conversion of booth visitors to qualified leads rose 50% when a preshow promotion was used. But only about 10–15% of exhibitors engage with attendees in advance. Don't be one of them! (Source: Center for Exhibition Industry Research)

Promising a unique experience is an excellent "incentive to stop by." In an ISA International Sign Expo booth, we designed dozens of display pieces for a replica neighborhood bar, "The App Room." Projects ranged from wallpaper and lampshades to a dartboard and pizza boxes. Themed coasters and our branded "takeout menu" of all the creative applications featured made memorable takeaways. DOWNLOAD A SAMPLE
Tip 3 – Create a killer booth
First, lock down the location. If you can pay more for a great spot where there's more traffic, do it. Adapt your graphics so that people in different locations can easily spot your booth. The goal is to attract attention from afar, draw people into the booth, and engage them while they're there.
Next, use your imagination to turn your booth into an inviting and immersive experience. Can you incorporate video and interactive technologies, nontraditional lighting, the booth floor, or the overhead space? Take advantage of the space you have. Showcase your products and services with demos and samples, and if possible, test your booth materials before the show.
did you know?
Tradeshow visitors check out a booth or display for about three to five seconds before deciding whether to walk by or stop and talk. (Source: Center for Exhibition Industry Research)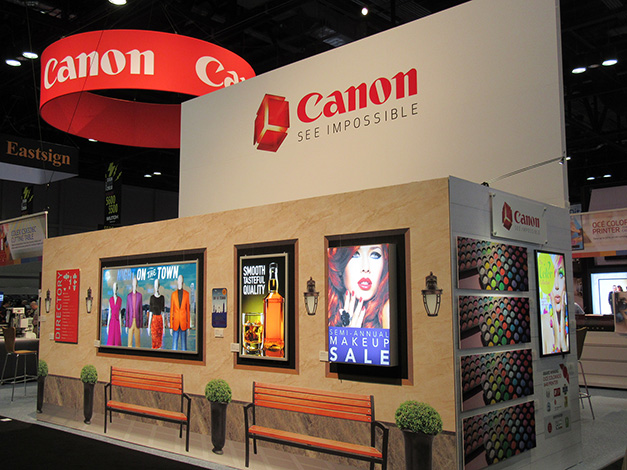 Inside another ISA International Sign Expo booth, we created a faux mall interior wall, complete with benches, backlit posters, and surprising interactivity. A flip of the wall switch transformed the "On the Town" clothing poster into a "Night on the Town" scene—complete with fashions now accessorized for evening.
Tip 4 – Don't just stand there; do something
A tradeshow isn't just standing in your booth for eight hours. Get out there and network with other people in your industry. Learn about your competitors, take note of trends, and attend the offered seminars or learning experiences. Even better, register to present a seminar of your own and show off what you can do. And bring great representatives. Tradeshows are all about making connections and sharing information. The people who represent your company should be well versed in what you have to offer, and they should be genuinely excited to meet new people.
did you know?
76% of survey respondents said networking is a key factor in their decision to attend a tradeshow. (Source: International Association of Exhibitions and Events)
Tip 5 – Show up and follow up
Don't let the effort you put into showing up at the show go to waste by neglecting to follow up with leads. Why wait? Start during the show. Take pictures with people you meet, tag them, and post on social media. It's likely they'll share them with other people who are following the conference hashtag. Post a tweet thanking booth visitors for taking the time to chat with you. Instead of exchanging business cards, input contact information to your phones on the spot.
Of course, after the show, you'll want to solidify all these great connections with appropriate follow-up emails and calls. Make each communication as personal, relevant, and specific as you can—reference your conversation at the show, ask questions that demonstrate how you were really listening, address unique "pain points" by offering targeted solutions. Staying in touch—and top of mind—is a simple step that can deliver a powerful payoff.
did you know?
About 80% of tradeshow exhibitors don't follow up with the leads they generated at an event. Don't be one of them, either! (Source: SalesForce Training)
We hope these tips can help you make the most of your next tradeshow experience. Meanwhile, let us know if you have your own tips for tradeshow success that you'd like to share.