Interactivity that Engages. Messaging that Sticks.
For years, Canon production inkjet printers have leapfrogged over the competition,earning the number one position in total inkjet market share, both in the US and worldwide. As of 2019, Canon Solutions America's US customers had printed more than 237 billion inkjet pages.
Even as a hands-down market leader in the production printing space, however, Canon recognizes the need to continuously engage and excite existing and new audiences by delivering thought leadership, sophisticated marketing, and enhanced learning experiences.It's essential for staying a jump ahead of the competition.
Canon understands the decision-making process involved in purchasing a shiny new production printer is complex, and researching what's on the market isn't a simple point-and-click scenario. Buyers need all the facts—from technical specs and projected impact on productivity to a thorough look at all the bells and whistles. They want to hear what real customers have to say about the device and how it has affected their business. And they need to be able to visualize how it could fit into their unique production printing operation and calculate a realistic ROI.
Canon's ProStream—billed as "the engine for the next generation of commercial print services"—is a web-fed inkjet production print engine that combines the best technologies in digital and offset printing and is designed to meet the requirements of premium direct mail and high-quality commercial print applications. It was built to offer just about everything a print provider needs to get—and stay—ahead of the curve.
[/vc_column_text]
The only thing left to do was make sure the world knew all about it. So, they tasked Street Level Studio with creating an engaging, educational, and exciting vehicle for delivering the message. The goal was simple: Build an experience with interactive features that grab and hold the viewer's attention right from the start. The result: The ProStream Interactive Guide.
This captivating landing page is an immersive experience that dramatically elevates the way Canon Solutions America informs and entertains customers, prospects, and industry partners. Featuring movement, multimedia, and multiple ways to access information, it delivers deeper knowledge and keeps viewers engaged in the learning experience longer.
Projects like the ProStream Interactive Guide require the Street Level Studio team to be constantly creative and ahead of the curve as well. So, we leverage data, master new techniques, and sharpen our skills to produce fresh marketing materials that foster the increased viewer engagement our clients demand.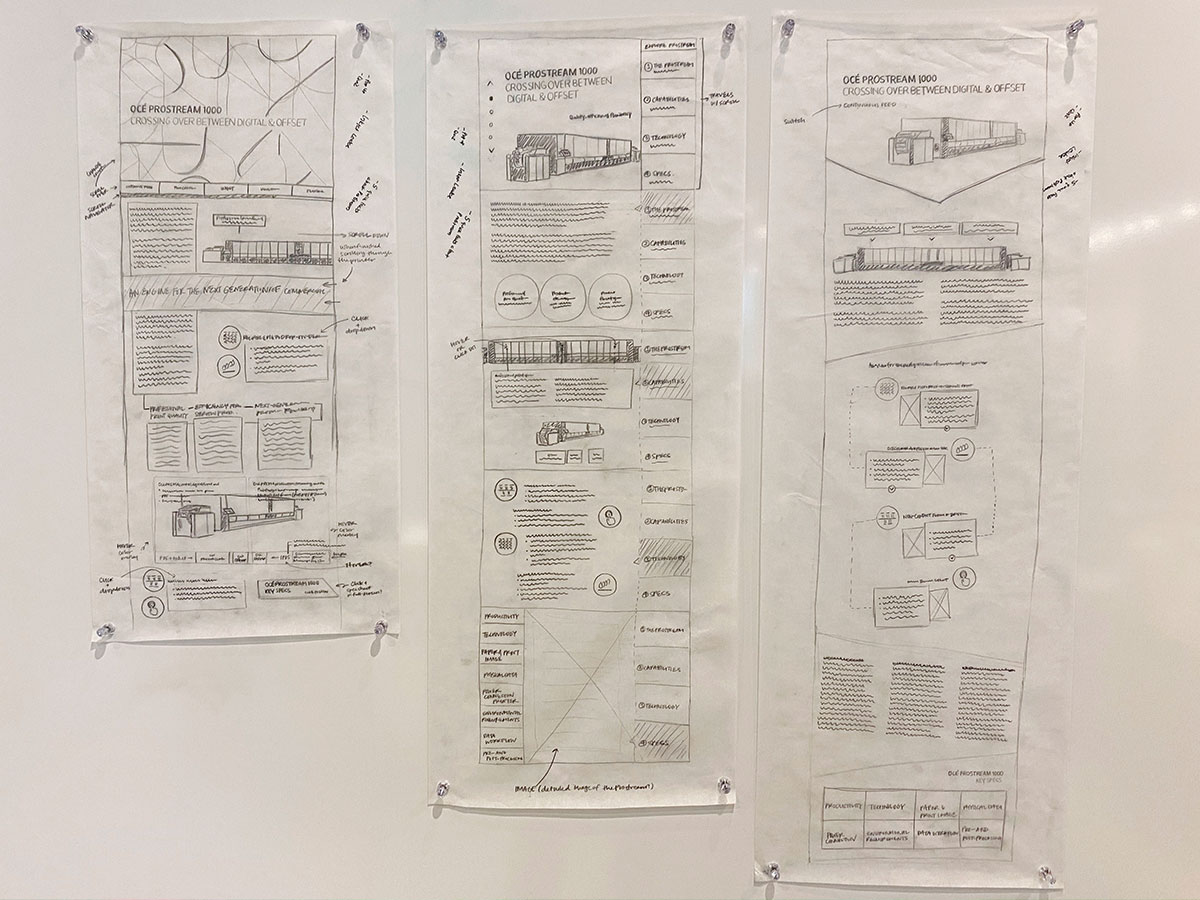 How did we do it for Canon Solutions America?
We designed the ProStream Interactive Guide on a modern React Native platform.
It allowed us to focus on the integration of interactive elements and deliver an engaging story via a balance of visuals, motion, and messaging—without a heavy investment in development or the need for extensive new content. Callouts, customer quotes, imagery, videos, and industry stats from existing assets were creatively repurposed and artistically reframed. This approach also allowed us to go from wireframe to launch quickly.
Capturing the attention of Canon's target audiences was critical in our efforts to educate them on the value the ProStream series can bring to their business. So was making the messaging stick. Since its launch, our solution has exceeded the expectations of the clients and continues to deliver solid engagement results.