A New Channel Strategy for Life Fitness
A global leader in the fitness industry, Life Fitness is well known for its commercial and home workout equipment. As part of a strategic expansion of its home fitness branch, Life Fitness forged a partnership with Costco Wholesale, adding a new sales channel to reach a greater number of customers.
To introduce its well-established brand into this new channel, Life Fitness approached Street Level Studio to create marketing materials for display in Costco stores. These marketing pieces—including large-scale, special order kiosks and a corresponding brochure—were needed to showcase the home fitness line while supporting the primary goals of building awareness, generating new leads, and ultimately gaining new customers.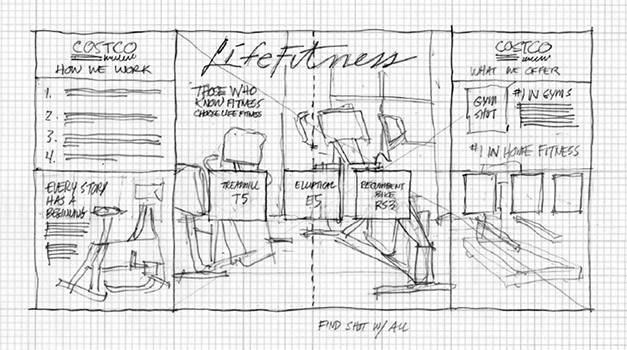 Initial kiosk sketch
Our first step was to create an initial layout of the kiosk and to develop specific messaging targeting Costco members. We emphasized the brand's history of innovation and renown in the commercial fitness market, explaining how exercisers could benefit from this same expert fitness equipment in their own home.
The next step was to design full-scale graphics. We leveraged the familiarity of the Life Fitness brand through consistent branding and messaging in a 6-panel full kiosk, a 3-panel half kiosk, and a tri-fold brochure. The brochure highlighted Life Fitness home equipment options and outlined the ordering process.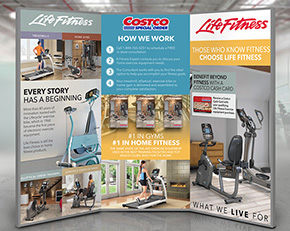 Life Fitness 3-panel kiosk

Life Fitness kiosk brochure
With these pieces, Life Fitness is able to promote its state-of-the-art equipment and highlight the high-end quality of their products that many members come to expect when shopping at Costco. So, the next time you're browsing the store aisles for a 5 lb. jar of pickles, check out the Life Fitness special order kiosk, and you may just be inspired to create your own home gym!