A Menu Makeover for Buffo's
Buffo's Restaurant, a local Highwood treasure, has been serving families on the North Shore of Chicago for over 35 years. We became friendly with the owner, Lenny Innocenzi, not long after he opened Buffo's. He may be our oldest client and frequently calls on us to help with his marketing initiatives.
Recently, he mentioned that his daily specials weren't attracting the attention that he had hoped for and asked what we could do to help. His restaurant is an order-at-the-counter operation, and his menu is displayed on a large wall at the entrance. To supplement the menu with daily specials, he had installed two monitors above the menu near the ceiling (see photo above).
We came to two conclusions. First, the menu is overwhelming on the wall, especially if you are not familiar with the dozens of items available. Though the menu was professionally printed, it was difficult to focus on a single category of items and impossible to absorb all of it on a busy night. The second problem was that the two monitors were positioned too high on the wall and didn't attract enough attention.
We took some measurements, photographed the existing menu wall, and headed back to our studio to come up with a plan. First, we decided to move the monitors down to eye level. This choice was possible because Buffo's specialty is amazing pizza. We moved pizza, the signature category, to the top of the wall above the monitors. If customers come for pizza, they'll be able to find their options with no problem. The remaining categories of food were arranged individually on the wall in a formal organizational grid.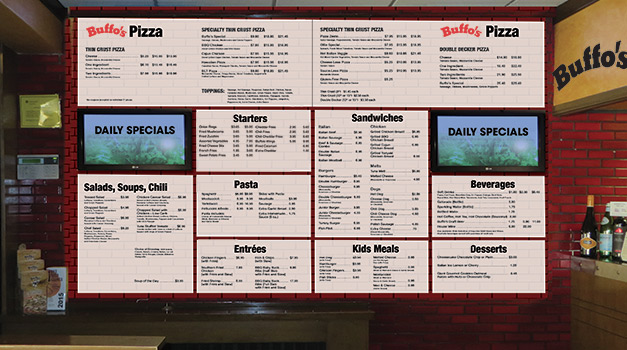 Updated menu wall
After new menu boards were manufactured and installed and the monitors moved, there was an almost instant boost in the sale of specials. The strategy worked! No science was involved, only a little math and an intimate familiarity with Buffo's food. After all was said and done, Street Level Studio was treated to a pizza party and a big thank you from our friend Lenny.