Street Level Meets Skyline: Creating a Website for Windy Installs
If you've spent time in downtown Chicago, you've probably seen some of Anastacio Castro's work. As founder and CEO of Windy Installs, "Stosh" has installed and restored iconic signs across the city. His handiwork includes the larger-than-life signage outside Ed Debevic's, Stan's Donuts, Goose Island Brewery, and Molly's Cupcakes.
Recently, Stosh faced a new challenge. How do you fit 20 years of large-scale installations into a single website?
Fortunately, our team was ready to jump in, and we were no strangers to Stosh's work. He helped with the restoration and install of our beloved neon MOTEL sign and installed our outdoor signage, putting the finishing touches on our creative new workspace in 2019.
From Neon to Online
With an impressive portfolio of work under its belt, Windy Installs needed a website that would shine a light on its successes. Our solution featured content creation and a design concept that gives users a striking and expansive glimpse of Windy Installs' expertise and experience.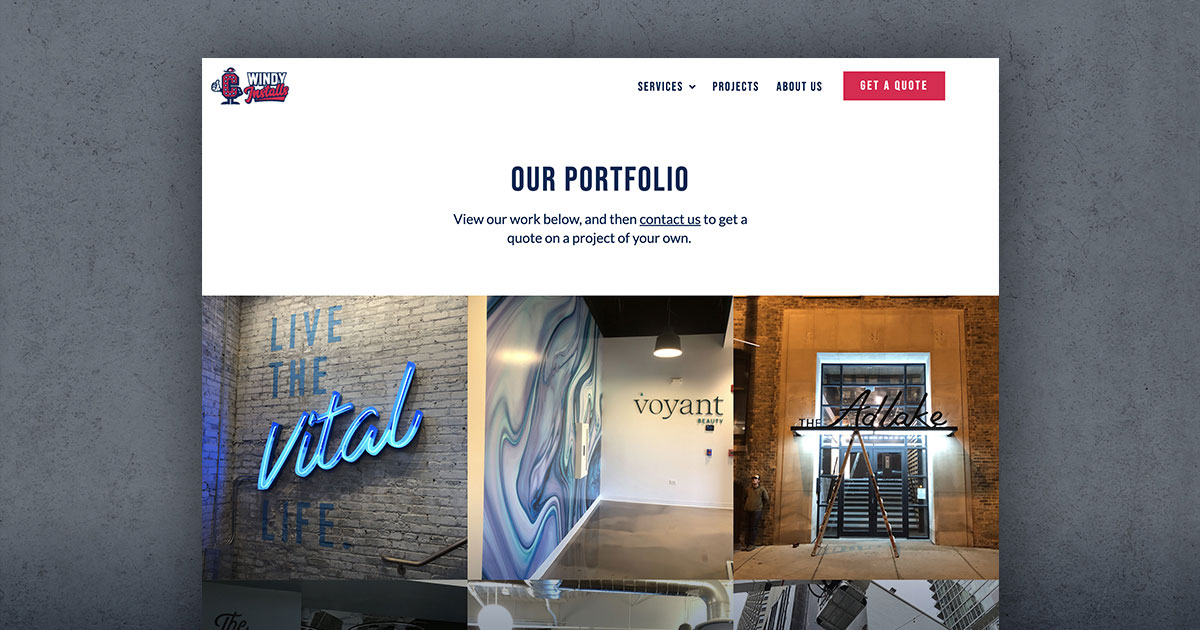 Windy Installs has tackled some uniquely challenging projects, working at breathtaking heights and delivering on the coldest days of the year. We helped them identify their most compelling experiences and transformed them into persuasive case studies.
With the colors from the company's existing logo as a foundation, Windy Installs' brand identity is woven into every page. It was important to allow Stosh's personality and reputation to shine, while keeping his love of Chicago front and center. Elements like parallax scrolling, animation, and image and testimonial carousels added extra touches of motion to keep things interesting.
For Stosh, like many of our clients, carving out an online presence was a new adventure. Our expert team ensured he had a clear understanding of the process every step of the way. From the initial planning stages with wireframes and site maps, through design and development, all the way to the finish line, his creative confidence was our top priority.
Want to learn more about how our website design and development services can shine a light on your successes? Let's talk.