My Rewarding Summer as the Street Level Studio Intern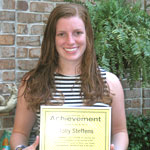 Finding an internship has become almost as difficult as finding a job as students enter their last year(s) of college. That, among many other reasons, is why I was so incredibly excited to get started as the Integrated Marketing Intern at Street Level Studio. While I have worked in many different environments, I had never had an "office experience" so I was excited and a bit nervous to get started. Not knowing what to expect, I walked through the door on the first day half expecting a scene out of "Horrible Bosses" where employees are retained in cubicles and have little to no interaction. Let me tell you, I quickly came to realize that this office is not the boring cubicle type. As for the boss, he's not so horrible after all!
As a 21-year-old student, being able to work directly under the CEO of a design firm is huge and Joe definitely made my time here a learning experience. With many areas of interest, this summer I was looking for a position where I would be able to get involved in multiple projects and hone in on my most valuable skills. Street Level Studio was incredibly open to this idea and really helped me get to know different areas of the company, along with my strengths and weaknesses in those areas. Whether working with Tanya on a design and layout project, retouching images for the website revamp, learning how to file job folders with Wendy, copywriting with Joe or managing the blog with James, I feel that I was treated as a valuable member of the SLS team. Something that many interns cannot say. After speaking with many of my friends about their internship experiences, I realized that I really hit the jackpot! Not only is the studio five minutes away from home, but also I gained a wide range of knowledge and insight here. While many of my friends were stuck picking up coffee and making copies, I was able to gain valuable hands-on experience and work closely with professionals. To say I learned a lot is an understatement. I learned that this field is full of collaboration and bouncing ideas back and forth, that anything that gets sent to a client or represents SLS needs to be proofed by all members of the team, that straight and to the point is best while writing press releases and organization and a wide-range of knowledge are two of the most sought after qualities to have. With this internship under my belt, I feel that I will be able to stand out in the competitive job market. Not to mention, I now know the weaknesses that I need to work on before entering the real world. DETAILS! DETAILS! DETAILS!
Thank you SLS team, for making this a great summer!
Molly Steffens