Like Kids in a Candy Shop
Nothing gets our creative juices flowing quite like a design assignment that comes with the "fun" already built in.
So, you can imagine our excitement when Canon Solutions America asked Street Level Studio to design environmental graphics and print samples for its gigantic 10,000-square-foot booth at the inaugural PRINTING United mega-tradeshow last October in Dallas. One part of the assignment—creating colorful, "real-life" elements for a series of themed room settings in the booth—made us feel like kids in a candy shop, both figuratively and literally!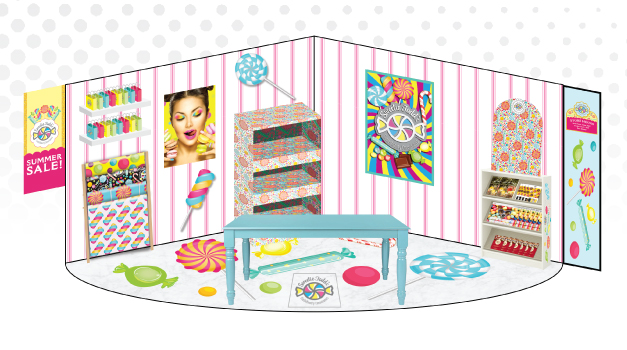 The room vignettes ranged from the lobby of a Mediterranean hotel to its on-site Taverna and a travel agent's office. Plus, there was a quirky flamingo-inspired family game room and our favorite Sweetie Todd's confectionary. As we imagined the backdrops and props populating these clever scenes, we got to play with lots of exciting printing technologies, like spot varnish, white ink, and raised textures, plus special effects such as backlighting and lenticular images. And we got to create all kinds of eye candy, from bold wallcoverings and floor graphics to charming signage, mouth-watering packaging, irresistible point-of-purchase displays, and delightful interior décor. SLS even produced an illustrated guide to each themed environment identifying all the pieces produced using Canon innovation.
It was sweet!
It also was a big hit at the show, as attendees went from room to room, interacting with the props and getting a real taste of the wide range of high-quality, highly creative materials produced on Canon's award-winning printers and presses.
Pictured: Sabine Lenz, president and CEO of PaperSpecs®, and Tonya Powers, director of marketing for Canon Solutions America, treat themselves to some colorful fun during the tradeshow.