ICYMI: Getting Descriptive with Logos
With all the attention the new Tokyo pictograms are gaining right now, we couldn't help connecting their simple ability to communicate across language barriers with the power of descriptive logos to market products and services with universal clarity and understanding. So, we're resharing a post from earlier this year about the benefits of being descriptive with logo design.
Sol Sender, lead designer on the team that created Barack Obama's iconic "O" campaign logo, once summed up successful logo design like this: "The strongest logos tell simple stories."
That's a powerful measuring stick.
So, let's put it to the test. How do you rate the retro-inspired new Burger King logo—the brand's first update in more than 20 years? Or the recent Animal Planet rebrand? What's your take on Zillow's refreshed logo?
They are all "descriptive" logos—marks that use text, visuals, recognizable shapes, or a combination of those design elements to clearly communicate what's being marketed. Descriptive marks don't have to be overly literal, but they are meant to tell a story. And, according to a Harvard Business Review article, if designers get them right, descriptive marks can affect brand equity and impact far beyond just making it easier for people to visually process and understand a product or service.
The Power of Getting Descriptive
The HBR article, written by three assistant professors who conducted seven different experimental tests involving 597 companies in 2019, concludes descriptive logos can positively impact brand perception and improve brand performance by:
making brands appear more authentic
favorably affecting brand evaluations
increasing willingness to buy from the brand
measurably boosting the brand's net sales
(The only real caveat in their findings? Design elements that graphically represent sad, unpleasant, or negative associations, like funeral homes and bug repellent, probably should be avoided!)
Taking a Smart Approach
Recently, the creative team at Street Level Studio had an opportunity to apply our knowledge of descriptive logo design for Canon Solutions America's Smart Production Platform.
Canon was expanding its portfolio of targeted production print workflow solutions from a single existing product—Book Smart Suite for book manufacturing—to a multiproduct platform also addressing the unique automation needs of other hot industry segments: transactional printing (bills, forms, financial statements, etc.), direct mail, and commercial/graphic arts printing.
Book Smart Suite already sported an eye-catching descriptive logo that definitely told a story—apologies for the pun. Our challenge was creating three more equally compelling product logos that would clearly represent the other market segments, plus an umbrella logo for the entire Smart Production Platform.
Our strategy and goals were clear:
Pique the interest of print service providers looking for automation solutions.
Create an easy-to-identify and cohesive look for this expanded product line.
Make sure each audience-specific solution tells its own simple story.
Focus on the key features of each product and its usefulness for customers.
Make sure the logos work successfully across print, digital, social, and website.
Visually associate all the products with Canon's established brand, quality, and expertise.
Telling a Simple Story
To clearly convey the "sweet" spot for each suite—what it does and for which kind of print operation—we condensed and converted the focus of each segment into discreet, easy-to-recognize symbols. For even more differentiation, each suite logo was assigned a unique color signature—accented with a touch of corporate Canon red to provide brand connection, credibility, and trust. For a cohesive look, the "a" in the wordmark for all the suites and the umbrella Smart Production Platform logo was replaced by the stylized magnifying glass.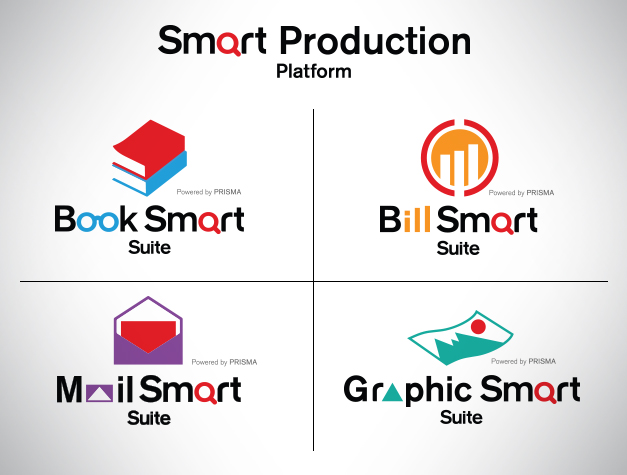 Using Sender's measuring stick, the new logos definitely tell a simple story—one Canon is actively sharing during the official launch of the Smart Production Platform this month. Based on the research, the decision to get descriptive with these marks certainly should prove to be the smart choice!
Tell us what you think over on our Facebook page. And let us know if we can help your brand share its story.