Enhance Your Space
In addition to integrated marketing services, Street Level Studio creates Beyond the SurfaceTM custom wallcoverings for a wide range of residential, retail, and commercial environments using the latest digital design techniques.
Our Beyond the Surface team knows that there's been one word on every interior and surface designer's mind lately—biophilia. You'll find it at the top of trend lists, and 2022 has even been dubbed "the year of biophilia." So what is biophilic design, and how can it enhance your space?
What is biophilic design?
According to sustainability consulting firm Terrapin Bright Green, "Biophilia is the humankind's innate biological connection with nature." Biophilic design harnesses that connection to beautify and enhance the spaces around us.

Why biophilic?
Biophilic design has been around for thousands of years and can be found in cultures across the globe, from ancient Greek temples to bonsai trees in Japanese homes. If you've ever walked through a Frank Lloyd Wright house, you've seen an excellent example up close.
And while the concept of biophilic design isn't new, research into its benefits for our health and well-being is still growing. Empirical studies have shown that the use of biophilia has positive impacts such as improved cognitive function and performance, stress reduction, emotion and mood enhancement, and physical health and comfort.
In 2014, Terrapin Bright Green released a paper compiling and analyzing decades of research into biophilic design. They identified fourteen elements, or "patterns," of nature and divided them into three categories: "Nature in the Space," "Natural Analogues," and "Nature of the Space."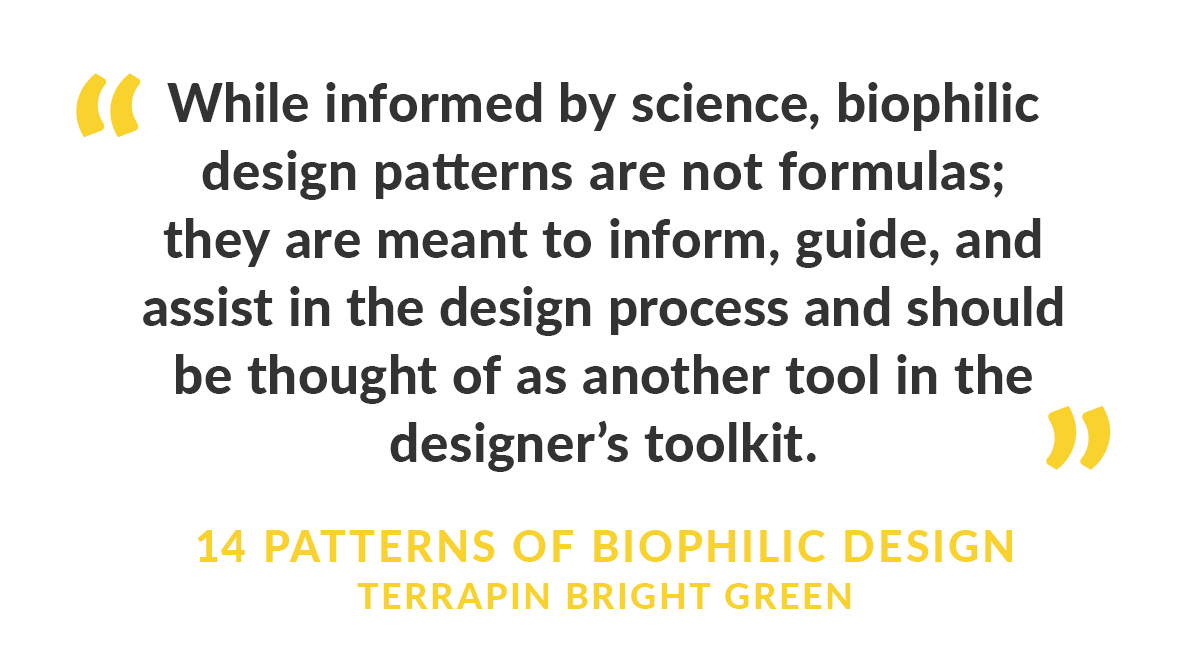 Nature in the Space
The most intuitive group of patterns, Nature in the Space, focuses on bringing nature inside and allowing your senses to experience natural elements. These elements may include plant and animal life, water, light, and airflow, but can also include less expected elements, such as nonrhythmic nature (curtains that flow in the breeze) or a connection to life cycles (skylights with a view of the changing sky).
For some settings where it's more difficult to incorporate natural elements, like urban spaces, drone-captured videos or photographs of nature can be a helpful solution.
Natural Analogues
The second group of patterns, Natural Analogues, references nature through shapes, patterns, materials, and spatial relationships. For example, a farm-to-table restaurant might enhance their décor with chairs and tables made from local trees.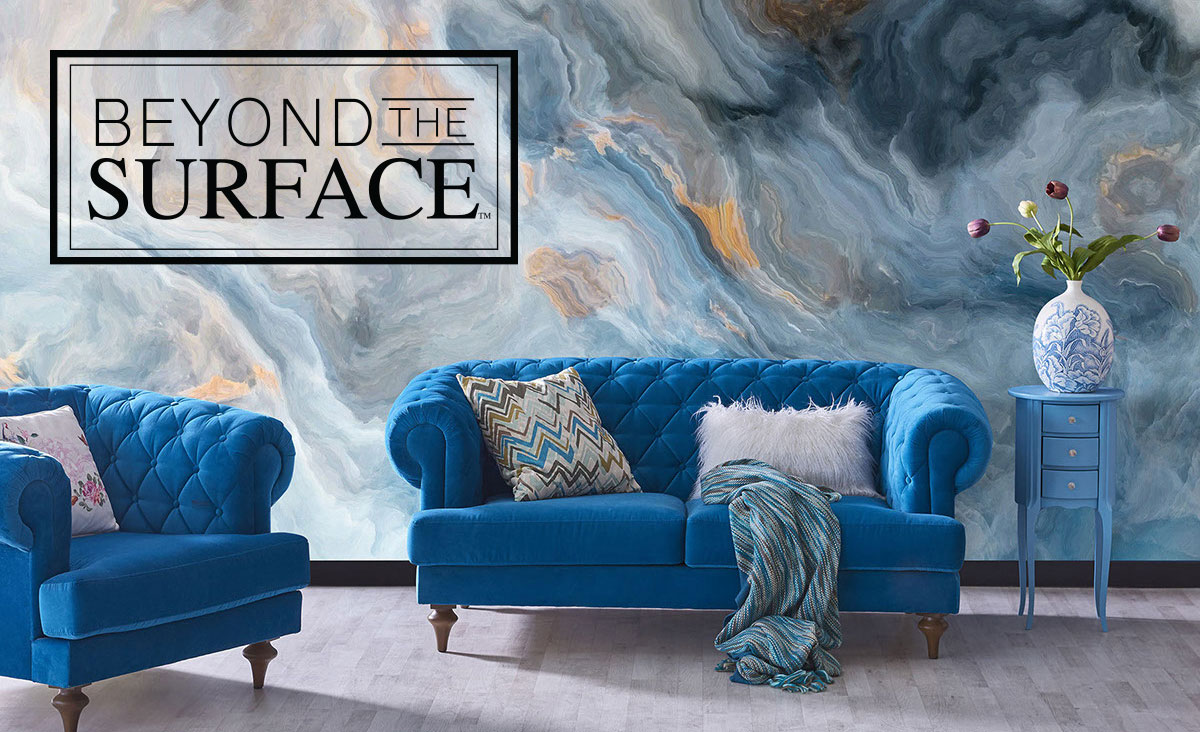 One of the most effective applications of Natural Analogues is Biomorphic Forms and Patterns, which focuses on shapes and patterns found in nature. To see an example of how biomorphic forms can be integrated into interior design, take a look at the award-winning "digitally hand-painted" wall mural our Beyond the Surface team created for the prestigious 2020 Lake Forest Showhouse.
Nature of the Space
The third and final category of biophilic patterns is Nature of the Space. These elements focus on how you experience a space and include spatial configurations that are found in nature. Just like navigating a website should feel intuitive and exciting, moving through spaces with these elements can spark feelings of anticipation or safety.
Healthcare and Biophilic Design
As you can see, there are countless ways to leverage the power of biophilic design, and each offers different health and wellness benefits.
One area where biophilic design can be especially impactful is in healthcare environments such as dementia and memory care spaces. From building a sense of comfort and community to helping patients find their way throughout complex spaces, innovative—and completely custom—biophilic wall design can help patients who need it most.
If you'd like to learn more about how our award-winning Beyond the Surface custom wallcoverings can support healthy aging, explore our Door Designs for Memory Care here.