Check Out Our Big News
Architects hired: ✔
Plans drawn and approved: ✔
Permits obtained: ✔
Construction begun: ✔
Start spreading the news: ✔
This fall, Street Level Studio is moving to a new location. And we couldn't be more excited about this big change—even though we're only traveling across the tracks in Highwood! We'll be consolidating the entire SLS creative team into one beautiful, old reclaimed building on Green Bay Road being refreshed with a new interior that perfectly reflects our unique brand and personality.

It's official, we have a permit!
Leading the transformation are Suzanne and Garry Shumaker, owners of Evanston-based Shumaker Design + Build Associates LLC.
"We've been fortunate over the years to connect with a lot of creative businesses and individuals," Garry says. "It's always a privilege to be able to celebrate, visualize, and build on their great ideas. Working with Tanya and the Street Level Studio team has been especially rewarding."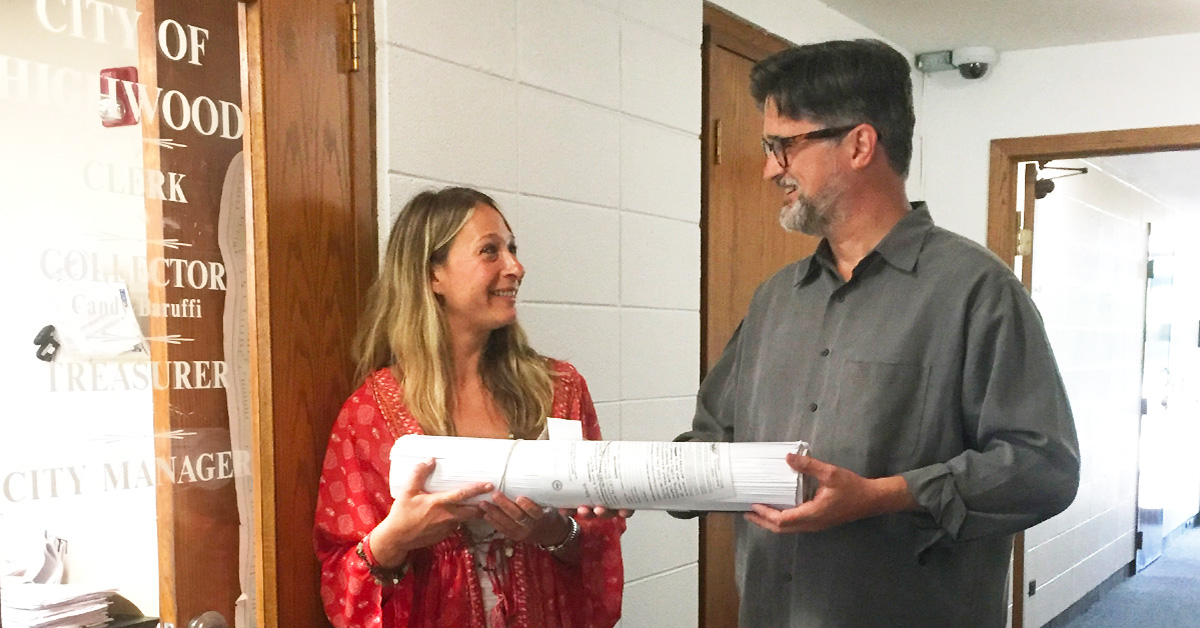 Jaime Litjens accepting the plans for review by the City of Highwood from Jim Hall, project manager, Shumaker Design + Build Associates.
Suzanne agrees. "From the moment we started talking, everyone was there already with what needs to happen in the new space. Tanya found a building with 'great bones' and the potential to be a dynamic working environment. Together, we've found a way to create a flexible space that both allows for privacy and encourages collaboration, that accommodates a high-tech workflow yet maintains the character of the space and its occupants."
With plans in hand, Jim Hall, the project manager, secured the necessary permits from the City of Highwood last week. On Monday, the contractors began demo of the old space—originally a taxicab stand and most recently a restaurant. Over the next couple of months, we'll be sharing their progress—and ours—via a series of posts. So, keep checking back for the latest updates.