Building an Anniversary Logo
When our client, Brunswick Billiards, approached us with a request to design a logo that would celebrate 170 years of successful business, we jumped at the challenge. Developing a new logo can be tricky, and it requires careful consideration of a company's history and visual style.
The Brunswick Billiards brand is well established and represents a company with an extensive history in billiard equipment. The company has been an innovator in billiard tables and accessories since 1845 and has become an international name in both home and professional billiard play.
Several members of the Street Level Studio team took part in the development of this logo, and after rounds of internal critiques and client feedback, we narrowed down the pool of ideas to one concept. The final product is a cohesive representation of Brunswick Billiards' brand, history, and meaning.
SYMBOLISM
The logo's circular shape, as well as the placement and size of the number "170," reference the design of a standard billiard ball. Do you see the thin, inner gold curves on either side of the "170"? This detail supports the overall symbolism of the logo by referring to the motion of a spinning ball.
HISTORY
The gold darts that point to the large number neatly contain the dates "1845" and "2015," but that's not all. These are specific references to a unique line of billiard balls developed by Brunswick Billiards. The darts were added to this line in the 1930s, which later became the Centennial® line of billiard balls.
TRADITION
Several elements of the logo tie in to the company's traditional branding guidelines. You may notice that the anniversary logo partners nicely with the standard Brunswick logo, and that's not by accident. We've picked up the black and gold colors, as well as the typographic treatment of "Brunswick," to give the logo a sense of relation to the overarching Brunswick style.
MEANING
Finally, the traits embodied by the Brunswick Billiards brand and products are expressed in this logo. The color, shape, and type treatment that we've chosen convey boldness, strength, and power. These choices represent the company's longstanding reliability and dedication to quality.
Each detail of this logo has come together to communicate 170 years of history in a visual sense. This logo has been incorporated in Brunswick Billiards' annual product catalog and website and will support their brand in many other pieces throughout the year.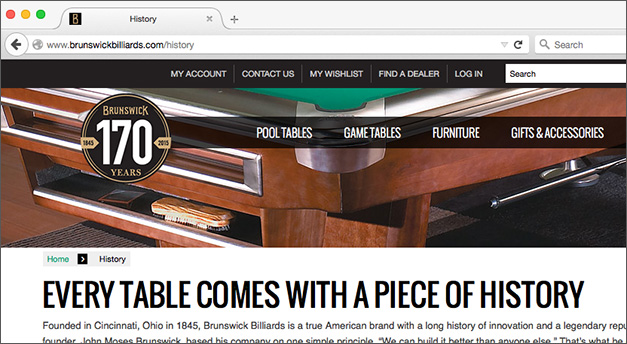 See the logo in use at www.brunswickbilliards.com.