Branding Your Environment as Well as Your Business
Do you do business in a competitive market or in an industry where aesthetics can affect results—like beauty and fashion, food and hospitality, financial services, health and wellness, nonprofits, technology? Then you need to go the extra mile to stand out from the crowd. You need to brand your environment as well as your business.
What is environmental branding?
While providing great products and services is paramount, getting and keeping people's attention requires a strong brand. And your brand isn't limited to things like your name, logo, color palette, font choice, visual iconography, and brand voice. A truly powerful brand reflects and expresses your unique identity—who you are and not just what you do.
When thinking about brand strategy, companies typically consider their letterhead, business cards, website, advertising, brochures, etc.—but not the appearance and experience of their business's physical space. Yet this often-overlooked area of branding can make a big impact on perception in the marketplace. In fact, it can be one of your best chances of making a profitable impression. So, it's no wonder environmental branding has become a critical factor in overall brand strategy.
Environmental branding aligns your physical location with your brand promise and puts it out there for all to see. It is more than just slapping your logo all over the place or posting your mission statement in a frame. It's taking your brand DNA and weaving it strategically throughout your space to communicate what you want people to know, feel, and understand about your business.
What are the benefits of environmental branding?
Unlike your online presence, your workplace is where your brand can literally come alive and function as an extension of your organization. A strategically branded environment is your opportunity to:
Get noticed
One of the most obvious reasons that businesses need branding is to help them get recognized. If you have a strong brand, people will naturally take note of it much more than they would a business without it. Especially right now. Between ecommerce sites and subscription services, both consumers and business customers have plenty of choices when it comes to where they go to spend their time and money.
To stay competitive, you need to give them compelling reasons to choose you. Your workplace or storefront presents a front-line opportunity to differentiate your business from the other choices while building affinity and familiarity with customers, prospects, vendor partners, and potential employees. And make no mistake. People do judge your value and the quality of your work based on how your physical space looks and makes them feel.
Be memorable
A business that doesn't extend its branding strategy to its environment probably isn't going to stick in someone's mind for very long. Strong environmental branding makes you much more memorable. Someone might stop into your place of business for only a moment, but if it makes a positive impression, there's a good chance they won't forget it, even if they aren't ready to buy right now. Eventually, when they are ready, they'll remember and come back.
Engage customers
Today, people expect to encounter a branded experience in almost any setting. And they want experiences that are up-to-date, attractive, immersive, and, yes, shareable. So, whether you occupy a corporate office, pop-up store, restaurant, or dry-cleaning establishment, anyone crossing your threshold should discover a positive and well-planned experience. Your workplace allows people to personally connect and interact with your brand and business. An engaging environment can increase "dwell time," encouraging people to linger instead of rushing off.
Inspire employees
A recent Harvard study that found that 81 percent of people either don't want to go back to the office or would prefer a hybrid schedule going forward. So, post-pandemic, environmental branding is especially relevant for your workforce. Creating a workplace that inspires people and makes them excited to return to the office can be a big win in the current talent war. But, under any circumstances, a bland and generic office environment is a turnoff for both current and prospective employees, who all want to work in a fun, collaborative culture they can be proud of. A branded workspace reminds them that they are part of a team working to accomplish a common goal.
Is environmental branding expensive?
So, why don't more companies pay more attention to branding their place of business? One reason is the common misconception that creating branded spaces is a big and expensive undertaking. But it doesn't have to be. Effective, thoughtful use of both the physical space and available resources simply takes a bit of creativity.
In fact, the growing emphasis on environmental branding strategy led Street Level Studio to branch out and apply our expertise to developing a visual design service that makes creating high-impact branded office spaces, stores, restaurants, showrooms, etc. more flexible and accessible. Now, our proprietary Beyond the Surface™ custom wallcoverings by Street Level Studio make us a valued creative resource for commercial interior designers and architects, as well as any business looking to brand its environment.
Our team of surface designers uses the latest digital techniques to create one-of-a-kind, brand-driven wall décor with remarkable intensity, quality, and panel-to panel consistency. Working digitally also allows us to venture beyond repeat patterns, work outside traditional wallpaper limitations, meet exacting brand guidelines, and artistically shift graphic elements to accommodate unique architectural features or fixtures with precision.
How does Beyond the Surface help brand commercial spaces?
Right from the start, we put our environmental branding strategy into practice in our own workspace to inspire creativity and promote pride within our own team. We selected quotes and images with relevance to our purpose and values and combined them in a collage featuring our brand colors. This unique branded wall graphic was installed in our new office vestibule shortly after we moved in during the fall of 2019 and won a Gold Hermes Creative Award in 2020. Now, the first thing people see when they come through our doors is a clear and compelling message about how we think and feel when we are in this space working to help our clients succeed.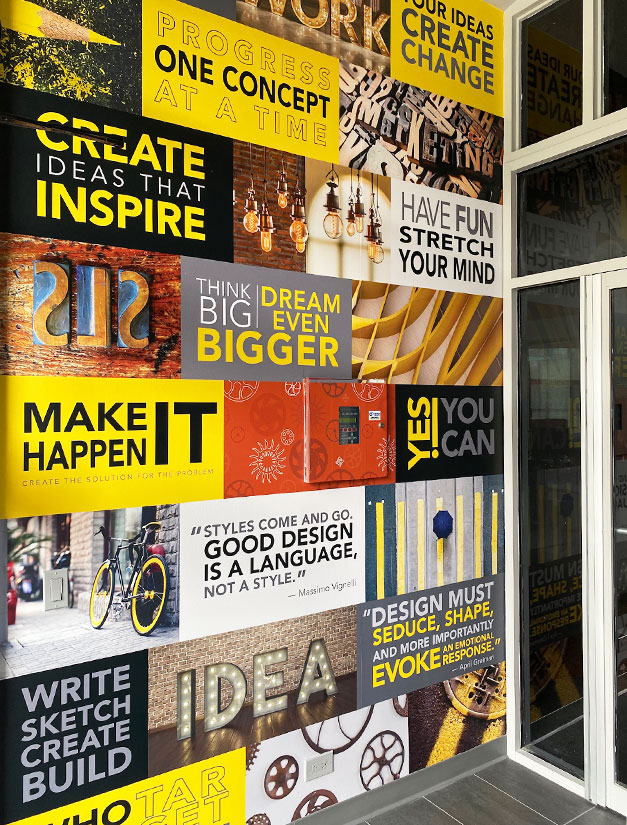 Most recently, we did just that for Summer Classics Home, a premier outdoor furniture and transitional indoor furnishings designer. At their Highland Park concept store, they transitioned the space from a highly colorful environment to a more refined white background befitting the Summer Classics brand direction and the sophistication of their furniture designs. For the transformation, they asked our Beyond the Surface designers to create a custom, high-contrast, photo-realistic wall mural to bookend two walls in the store—showcasing their products and evoking a luxury outdoor experience, without distracting or creating visual clutter.
To fit both the client's vision and the wall dimensions perfectly, our team digitally manipulated and enlarged a black and white photo of arched, oversized palm fronds to achieve a dramatic effect of light filtering through the leaves. Digitally printing the design on the latest large format digital press assured crisp, razor-sharp definition without losing detail.
With the design on one wall "flipped" to mirror the other, the final effect accentuates the archway and perfectly frames the furniture tableau. Since the client was looking for a more custom finish than could be achieved with a standard wallpaper substrate, we sourced a uniquely textured paper—DreamScape® Plaster, a commercial vinyl wallcovering with an embossed matte finish that simulates the look of hand-applied plaster. And despite the supply chain crunch being experienced by many in the interior design space, we were able to take the entire process from initial conversation to completion in about three weeks. We even helped facilitate the wall mural installation.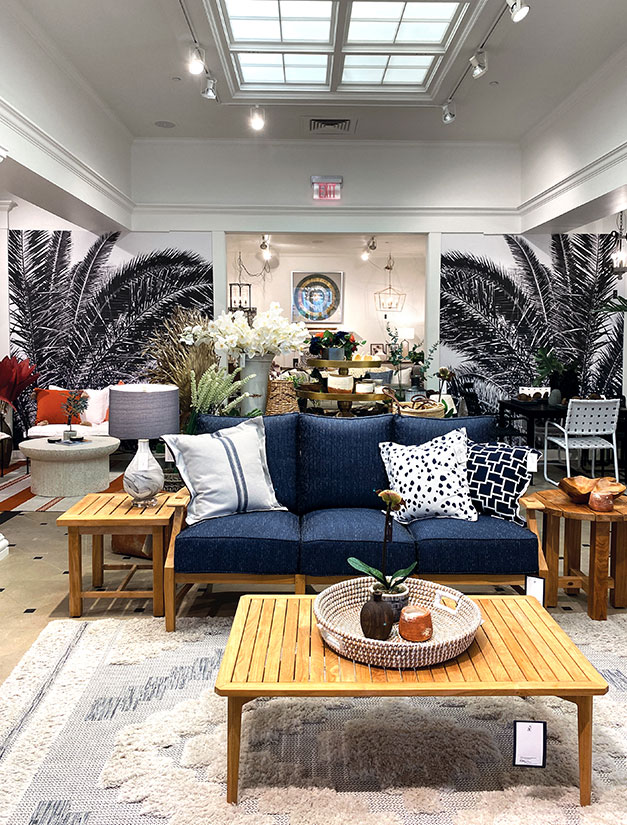 Are you ready to brand your place of business?
In a competitive world where experience is king, it's more important than ever to express the spirit of a brand as well as its identity. Authentically creating an environment that is cohesive with the business's brand values can send the signal that it is a "special" place where people want to be. If you are ready to explore empowering your brand and bringing it to life through your environment, our team would be delighted to help.