Paper + Pigment: Why Designers Have Color Issues
"In visual perception, a color is almost never seen as it really is—as it physically is. This fact makes color the most relative medium in art. In order to use color effectively, it is necessary to recognize that color deceives continually."
—Josef Albers
In his influential 1963 book Interaction of Color, artist, art theorist, and educator Josef Albers described the fickle qualities of color, including color relativity. For a perfect demonstration of this phenomenon, watch this mesmerizing video from Germany! Or check out the following example from Albers' book. You'll quickly understand why designers have color issues.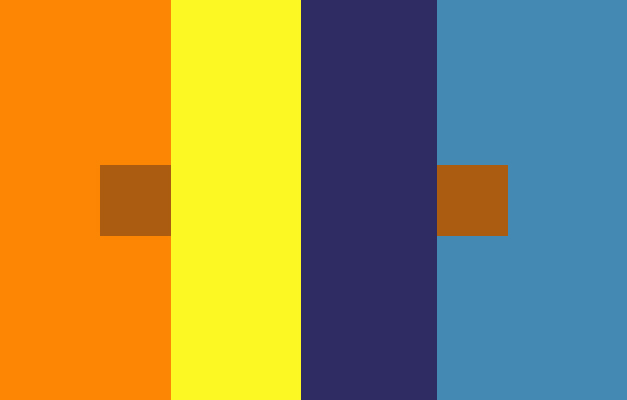 "A color has many faces, and one color can be made to appear as two different colors. Here, it is almost unbelievable that the left small and the right small squares are part of the same paper strip and therefore are the same color. And no normal human eye is able to see both squares—alike."
It's All About Context
The relativity of color is just one of its quirks. There are plenty more—all predicated on the larger idea that only by observing color behavior in context can one begin to understand it.
In the context of modern digital printing—the subject of this blog post—there are dozens of variables, options, conditions, and caveats to consider when color pigments meet paper. These include the printing equipment being used, the file format, the choice of paper, the type of inks, and even the environment in which the printed piece will eventually be seen.
Ask any designer who has ever attempted to put pigment on paper. You'll likely hear disgruntled comments about how the color clarity, intensity, detail, or quality they envisioned during the creative process often fails to match what they see rolling off the press.
What We've Learned from Wallpaper
Admittedly, digital printing technology—especially production inkjet—has come a long way. With proper color management procedures in place, consistency is more possible than ever. But achieving the intended effect still requires a deep understanding of color's capriciousness and all the factors that affect it—whether you're printing a direct mail piece or a book cover, a catalog or panels of wallpaper.
And we know about wallpaper! Our experience dealing with the color challenges of designing digitally printed custom wallpaper—the Beyond the Surface™ wallcoverings line from Street Level Studio—actually provided SLS with a remarkable opportunity. Right now, we are partnering with Sherwin-Williams, the number one paint company in the US, on a unique design industry educational experience focused on this very topic.
Sherwin-Williams' new CEU certification course Paint + Pigment introduces interior designers to the foundations of color theory, color history, and the impact color can have on moods and perceptions as well as a room's aesthetics. The course also offers insights into how color pigments can affect the performance of paint on different surfaces and in different conditions.
Following the CEU portion of the presentation, Street Level Studio turns the focus on wallcoverings with a session entitled Paper + Pigment. How pigment reacts and reflects on paper may not always be the same as it does in paint. So, when creating wallcoverings, surface designers need to understand the properties of individual substrates as well as how those properties impact hue, saturation, brightness, reflection, and refraction. And when specifying wallpaper, interior designers need to be able to use this same knowledge—and employ Albers' concept of observing color in the context of the spaces they are creating—to match paint and wallpaper precisely.
The inaugural presentation to nearly 50 Chicago-area interior designers was a big success, and we are delighted that more joint presentations with Sherwin-Williams are on the horizon. It's our way of continuing to pursue the color education pioneered by Albers. Because, even as technology continues to overcome some of the limitations inherent in color's quirky nature, we still have issues. And there's a lot more to learn before we can truly bend color to our wills!